The removal of the gold standard in 1971 to provide 'monetary policy flexibility' to the Federal Reserve is one of the main culprits for the current debt-fueled bubble we find ourselves in today. Take a look at the debt vs. GDP chart and you'll see a huge divergence between the two, all starting from that fateful year. Total debt now stands at over 3x GDP, and it's only projected to get worse.
In the following video, Right Wing News looks at the overall monetary system of the United States, and how the creation of the fiat money system has allowed our country to spend its way out of problems. The problem with overspending is that the merry-go-round has to stop eventually, and the bill always comes due. More and more intelligent investors are allocating some of their portfolios into the real 'hard currency'; gold and silver, and it is refreshing to see that at least a couple state legislatures are using their common sense. When the bubble bursts and the dollar takes a hit, they'll be glad they did.
SUBSCRIBE TO THE TOP STORIES OF THE WEEK IN THE NEWSLETTER HERE
DO NOT MISS THE BRAND NEW: AIM FOR TRUTH MEDIA!
IT BEGINS…. Idaho & Arizona Pass Bills To Remove "Capital Gains Taxes" On Gold & Silver
In just the past week, lawmakers in Idaho and Arizona have passed bills removing "Capital Gains Taxes" from gold and silver coins and bars. Normally, when individuals sell gold or silver, they must pay capital gains on any increase on the value of their precious metals investments. However, gold and silver are really not investments per say, rather they perform as real money.Thus, the lawmakers in Idaho and Arizona realize their citizens shouldn't have to pay taxes on their gold and silver holdings because they have increased in value due to the debasement of the U.S. Dollar by loose Federal Reserve monetary policies.
According to the article, Arizona State Senate Committee Passes Bill To Treat Gold As Money, Remove Capital Gains Tax:
Today, an Arizona Senate Committee passed a bill that would eliminate state capital gains taxes on gold and silver specie, and encourage its use as currency. Final approval of the legislation would help undermine the Federal Reserve's monopoly on money.
Former US Rep. Ron Paul testified today in the Senate Finance Committee in support of House Bill 2014 (HB2014). The legislation, which previously passed the state House by a 35-24 vote, would eliminate state capital gains taxes on income "derived from the exchange of one kind of legal tender for another kind of legal tender." The bill defines legal tender as "a medium of exchange, including specie, that is authorized by the United States Constitution or Congress for the payment of debts, public charges, taxes and dues." "Specie" means coins having precious metal content.
In effect, passage of the bill would, as Paul noted, "legalize competition in a Constitutional fashion."
This Arizona House Bill to remove capital gains taxes on gold and silver is a BIG STEP forward to reintroduce precious metals back as their rightful role as REAL MONEY or HIGH QUALITY STORES OF VALUE.
While the Arizona State Senate Committee passed a bill last week to remove capital gains on gold and silver, Idaho did the same thing just yesterday. According to the article, Idaho House Of Representatives Votes Overwhelmingly To Remove Income Taxation From Precious Metals:
Boise, Idaho (March 14, 2017) – By an overwhelming 56-13 margin, the Idaho House of Representatives today voted to end all Idaho taxation on precious metals, e.g. gold and silver coins and bars.
Bill sponsor Representative Mike Moyle (R) and the entire Republican caucus voted for the measure. If the Republican-controlled Idaho Senate follows suit and Governor Butch Otter (R) signs the bill, Idaho citizens will better be able to use gold and silver as a form of savings which protects against ongoing devaluation of America's currency.
So, we now have two states within the week that have passed bills removing capital gains tax on gold and silver. However, Utah was the first state in 80 years to pass a bill back in 2011 that made gold and silver legal tender once again. Thus, individuals in Utah are legal to use gold and silver coin to pay either taxes or for goods and services if both parties agree.
But, what is even more interesting is that Utah just recently (Jan 27th 2017) introduced a bill for a State Gold Depository. The article, Utah Bill Sets Stage For State Gold Depository, Further Encourages The Use Of Metals As Money, stated the following:
A bill introduced in the Utah legislature would build on the state's Legal Tender Act, creating a foundation for further action to encourage the use of gold and silver as money, and take another step toward breaking the Federal Reserve's monopoly on money.
Rep. Ken Ivory (R-West Jordan) introduced House Bill 224 (HB224) on Jan. 27. The legislation would add several provisions to state law designed to encourage the use of gold and silver as legal tender. Passage would set the stage for expansion of gold repositories in the state and authorize further study on several sound money policies.
Specifically, HB224 would authorize the investment of public funds in specie legal tender held in a commercial specie repository.
Here we now have a third state encouraging gold and silver to be used a real money. Not only does this bill help to reintroduce gold and silver as sound money, it also plans to set the stage for setting up depositories across the state to house its citizens precious metals holdings. THIS IS A BIG DEAL.
While these are only three states pushing for gold and silver to be used as real money once again, I believe it is just setting the stage for more states to follow suit as the U.S. Dollar's value continues to evaporate due to massive monetary printing and increased public debt.
So, as the Federal Reserve meets today to raise interest rates or the U.S. Government gets ready to increase the debt ceiling above $20 trillion, several states are preparing for a time when the U.S. Dollar is no longer is a viable form of money.
Americans better get prepared for what's coming. While the precious metals are still being valued in a manipulated highly leveraged gold and silver paper trading market, this is not a system that will last for much longer. When the markets finally crack under the massive amount of Debt and Derivatives, there will be a mash rush of investors into gold and silver.
Unfortunately, when this occurs, there will be very little physical gold and silver to go around… only a MUCH HIGHER PRICES.
Check back for new articles and updates at the SRSrocco Report. You can also follow us at Twitter, Facebook and Youtube below:
BE SURE TO CHECK THELASTGREATSTAND.COM FOR SURVIVAL GEAR!
FREE DETAILED GUIDE TO SURVIVING ECONOMIC COLLAPSE OR MARTIAL LAW HERE

IF YOU READ NOTHING ELSE, THE FOLLOWING POSTS ARE ESSENTIAL:
Economic Recovery? No, Get Ready For the Retail Apocalypse (Video)
Bill Holter: This Is the Biggest Bubble in the History of History
Bill Holter: Paper Currencies Approaching Their Real Value: Zero (Video)
Bill Holter: Global Economic System Is Going to Resemble Caveman Times Soon
Peter Schiff: "Default or Not, U.S. Dollar Is Going to Collapse Either Way" (Video)
Jim Rickards Discusses Looming Shut Down of the Entire US Economy (Video)
Dr. Jim Willie: Worst Bond Crisis in 15 Years, World Quickly Losing Confidence in US
Bill Holter: Between Now and Election Will Be Extremely Dangerous (Video)
Dr. Jim Willie: We Are on the Brink of World War; Americans Totally Clueless - Pt. 1
Dr. Jim Willie: We Are on the Brink of World War; Americans Totally Clueless - Pt. 2
Bill Holter: Newly Solidified Chinese Superpower Will Replace Dead U.S. Dollar (Interview)
Peter Schiff: Don't Believe the Hype! The Real Economic Fallout From Brexit (Video)
How Will the U.S. Conduct Trade With Worthless U.S. Dollars and No Gold? (Video)
Why Did Illuminated George Soros Liquidate 37% of His Stock to Buy Gold? (Video)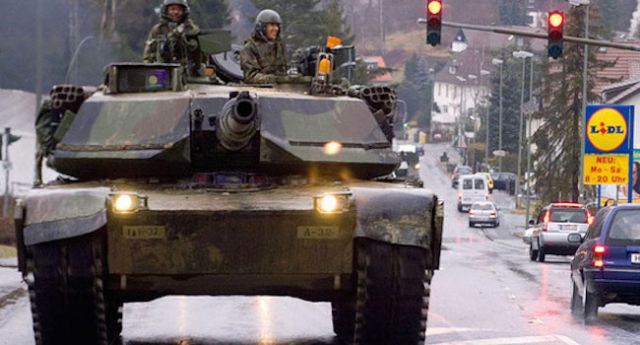 FOR MORE LINKS ON MARTIAL LAW:
Reports of Active U.S. Military Drilling for "Authoritarian Rule of Law" (Martial Law)
U.N. Soldier Says They Will Soon Occupy America: "Going Door-to-Door Taking Guns…"
1,500 Pages of New Documents That Reveal U.S. Government's Martial Law Agenda (Video)
Mainstream Media Blasts Alternative News Personality on FEMA Camps (Videos)
Ron Paul: Undeniable Proof Martial Law Is Coming Because of the Economy (Video)
Virginia Police and Homeland Security Doing Exercises for Marital Law Conditions (Video)
Latest News on Government's Preparing For Civil War or Martial Law (Videos)
Martial Law Convoys Sent to Baton Rouge, Dallas, and St. Paul Before Shootings (Videos)
Pentagon Approves U.N. Use Of Force Against American Civilians (Video)
What Is the U.S. Government Endlessly Preparing For (Videos)
Patriot Films Shocking New Video of a FEMA Camp Recently Discovered in Texas
Major Update to Military Movement and Actual Documentation of Their Plans (Video)
United Nations Troops on U.S. Soil Prepared to Assist With Martial Law? (Videos)
Obama Has Prepared FEMA for All Four Storms… Are You Prepared?
13 States Obama Is Using for His Nefarious Secret Agenda (Video)
Obama: Be Ready For EMP Attacks, Engineered Pandemics, Earthquakes, and Martial Law
How Likely is Martial Law in the US, and What Happens Under Martial Law
Law Enforcement Preparing For Rioting on National Scale (Videos)
All Armed Americans To Be Detained In FEMA Camps Starting In 2017? (Video)
Beware of Martial Law: Obama Will Confiscate Firearms Of All 50 States in 2016
Army Not Prepping for Battle; Training For Riot Control and Martial Law
Pentagon Says Preparing For Huge Civil Unrest in U.S. (Videos)
Political Dissidents Homes Being Marked By FEMA Prior to Martial Law?
Government "Threat List:" 8 Million People To Be Detained Immediately
SUBSCRIBE TO THE TOP STORIES OF THE WEEK IN THE NEWSLETTER HERE
FACEBOOK | GOOGLE+ | TWITTER | PINTEREST | STUMBLE UPON | TUMBLR
FREE GUIDE TO ECONOMIC COLLAPSE OR MARTIAL LAW…
AT THE OFFICIAL BLOG SITE BELOW!
FACEBOOK | GOOGLE+ | TWITTER | PINTEREST | STUMBLE UPON | TUMBLER