Depending on who you talk to, there have been reports about Hillary Clinton's legendary temper for years up on Capital Hill. From former White House staffers, to former Secret Service Agents, everyone seems to agree, she's a real joy to be around. In his book, 'Crisis of Character,' former Secret Service Agent Gary Bryne details arriving at work one time after a 1995 shouting-match between Bill and his darling wife, and she'd left a light blue vase 'smashed to bits' and Bill sporting a 'real, live, put-a-steak-on-it black eye.'
Well, in the video below I review a report that claims on election night, while totally inebriated, Hillary popped her top again, had to be physically restrained, and Bill's eye got walloped once again, probably from sheer muscle memory at this point in their marriage. Poor Hillary. Anyone feel bad for her?
Maybe we can send her some play doh like the college kids are asking for?
SUBSCRIBE TO THE TOP STORIES OF THE WEEK IN THE NEWSLETTER HERE
FOR MORE NEWS BY VOICE OF REASON CLICK HERE!
A CNN reporter claims that Hillary Clinton flew into a violent fit of rage at Bill Clinton and her campaign staff on election night when it became clear she was losing.
A drunken Hillary became "physically violent" towards those around her when she realized her dreams of winning the White House had been dashed by Donald Trump, according to radio host Todd Kincannon.
"CNN reporter tells me Hillary became physically violent towards Robby Mook and John Podesta around midnight; had to be briefly restrained," tweeted Kincannon.
It was for this reason that Campaign Chair John Podesta was sent out to tell supporters that Hillary would not be making an appearance that evening to make her concession speech.
When asked about rumors that Hillary was drunk on election night, Kincannon responded, "She was. I posted about that too. She was in a "psychotic drunken rage" according to my reporter friend. Doctor added sedatives to the mix."
Clinton's Secret Service officials have previously reported Hillary's problem with anger and violence
Thegatewaypundit.com reports:
Hillary Clinton did not make it on stage that night. She sent John Podesta out instead.
Hillary was drunk.
The reporter said CNN would not publish the story!
SUBSCRIBE TO THE TOP STORIES OF THE WEEK IN THE NEWSLETTER HERE
FACEBOOK | GOOGLE+ | TWITTER | PINTEREST | STUMBLE UPON | TUMBLR
CRITICAL POSTS ABOUT HILLARY'S POOR HEALTH:
Was Hillary Clinton Wearing a Wire and Earpiece for Hofstra Debate (Video)
Hillary's Obituary Prepares Masses for Crushing Clinton Defeat (Video)
Dr. Milton Wolf Proves Hillary's "Pneumonia" Story Is Impossible… (Video)
Shocking Email: Hillary Asks NFL's Roger Goodell for Help Treating 'Cracked Head' (Video)
Medical Community Worried About Hillary's Obvious Declining Health (Video)
Hillary Clinton Freezes in Fear – Secret Agents Says To "Keep Talking" (Video)​
See Which Doctors Say Hillary Clinton is Hiding Major Health Issue (Videos)
Everything You Need to Know About Hillary's Health All in One Post (Videos)
Hillary's Poor Health and Odd Behavior: Massive Cover-Up Continues (Video)
MORE EGREGIOUS HILLARY POSTS:
Sorry Protestors: Looks Like Hillary Got Pummeled in the Popular Vote Too (Video)
Private Militia Groups Actively Preparing for Fraudulent Hillary Win (Videos)
Reason Wi-Fi on Hillary's Campaign Jet Was Turned Off Should Chill You (Video)
Stefan Molyneux Reviews All 3 Scandals: Hillary, Weiner and Loretta Lynch (Video)
Shocking and Disturbing: Top 100 Hillary Bombshell Wikileaks Leaked So Far
Tomi Larhen Just Accused Hillary of Threatening to Murder Bernie (Video)
Hillary Walks Out on Press Conference When Asked about Undercover Fraud Videos
Trump's New Hillary Ads Will Have Her Crying Herself to Sleep Tonight! (Video)
Hillary Clinton: All Her Disastrous Leaked Audio Recordings (Actual Audio)
Wikileaks: Clinton Lawyers Advise Hillary How to Break Law and Not Get Caught
As Prophesied: Hillary Vows to Shut Down Breitbart/Infowars if Elected! (Video)
Hillary's New Investigation Is No Joke; Possibilities Aren't Either (Videos)
Shadow Government: WikiLeaks Exposes George Soros Controlling Clinton
FBI Director Comey Working Behind the Scenes on 'Suprise' Hillary Arrest (Video)
Julian Assange Drops Bombshell Involving Murder on Hillary Clinton (Video)
DNC Insider: Clinton Being Pounded in Polls – Don't Believe Mainstream Media! (Video)
Clinton Adds +5 to Body Count in 6 Weeks Totaling 67 Dead Associates (Video)
Julian Assange (7/27/16): "Next Leak Will Lead to Arrest of Hillary Clinton" (Video)
NSA Whistleblower Shocks Radio Host: We Have All Hillary's Deleted Emails (Video)
Former Clinton Hitman Confesses to Murdering People for Money (Video)
Trump Releases Second Hillary "Legendary Lie" Video; Leaves Her In Shock (Video)
C.I.A. Links Top Clinton Donor, George Soros, to Terrorist Bombing (Videos)
Clinton Author Drops Huge Bombshell About FBI if Hillary Not Indicted (Video)
Secret Audio Of Hillary Clinton's Real Plans For Guns Leaks Out (Videos)
Most Unbelievably Scandalous Video Hillary Wishes Never Saw Daylight (Video)
Another Clinton Associate Found Dead, Bill and Hillary's Body Count Increases!
RELATED HILLARY POSTS:
Leak: Hillary Not Indicted Because Everyone in D.C. Tied to Clinton Foundation (Videos)
New World Order's Summer of Chaos Advances Thanks to Hillary Outcome (Videos)
Hillary's Chief of Staff Fails to Recall Events 189 Times Throughout Deposition
Clinton Cooked: Report on Email Scandal Worse Than Initially Expected (Video)
Judge Says Enough Evidence to Indict and Convict Hillary Clinton (Video)
Obama Plotting For King of the World; Means Indictment Likely For Hillary
Hillary's Criminal Investigation a Political Nuke – Party Diving For Bunkers (Video)
Everyone in Hillary's Inner-Circle Lawyers-Up; FBI Quickly Closing In on Hillary
Hillary Answers Question, Shockingly Hears Reporters Laughing In Disbelief
Former House Majority Leader: The FBI is Finally Ready to Indict Hillary NOW
U.S. State Dept. Caught Attempting to Rig Iowa and New Hampshire Elections
Clinton Email Scandal Produces Largest Smoking Gun To Date: 44 Magnum
Video: Benghazi Victim's Father Publicly Challenges Hillary To Lie Take A Detector Test
Hillary Email Blows Cover Off Massive Obama Plot to Promote Terrorism
Smoking Gun: Hillary E-mail Instructs Aide to Delete Classified Markings
Obama's Third Term: What You Need to Know About Hillary Clinton's Emails
Obama Defies Judge's Order, Protects Hillary, and Should Mean Prison
Busted! CIA Reveals Hillary and Obama Armed ISIS (Video)
Bombshell Email: Hillary Clinton Gave Benghazi Stand Down Order
Trey Gowdy Speaks Out About Withheld Clinton Benghazi Emails (Video)
Exposed: Clinton Withheld 180 Emails About Benghazi
New Evidence: Hillary Willingly Violated National Security (Video)
400 STINGER MISSILES STOLEN IN BENGHAZI: Why Were They In the Embassy??
SUBSCRIBE TO THE TOP STORIES OF THE WEEK IN THE NEWSLETTER HERE
FACEBOOK | GOOGLE+ | TWITTER | PINTEREST | STUMBLE UPON | TUMBLR
"I'M WITH THE DEPLORABLES" T-SHIRTS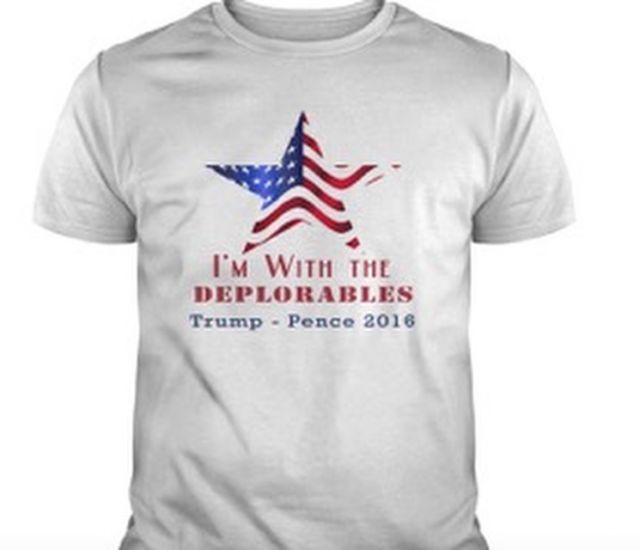 FACEBOOK | GOOGLE+ | TWITTER | PINTEREST | STUMBLE UPON | TUMBLER