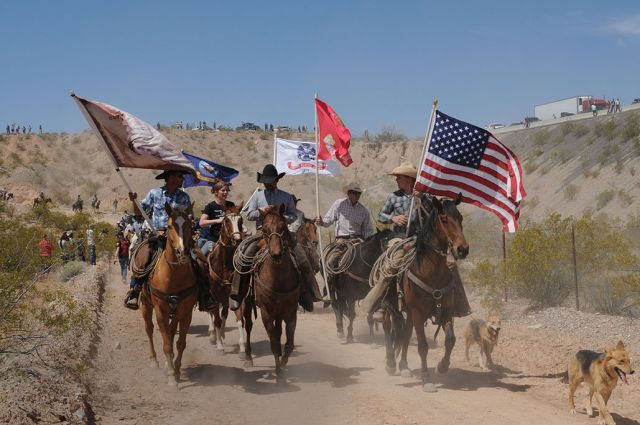 THE MOST IMPORTANT TAKEAWAY FROM ALL THIS:
WHY IS NONE OF IT BEING COVERED DURING THE PRESIDENTIAL DEBATES?
In a recent post published March 1st, I revealed that a Utah Sheriff has threatened the BLM saying he will deputize every man, woman, and child in the county, and give orders to arrest any BLM agents on sight if the BLM attempts to take one more piece of land from Piute County, Utah (the second smallest county by population in Utah), where the BLM has already seized 74% of the county's land. In that post I said the following:
"By all accounts, it looks like another standoff with Obama's BLM is brewing once again, and some of the names involved are all too familiar. The major difference between this standoff and the Burns, Oregon ranch, is that one of the men Lavoy Finicum had a pact with to protect each other from federal agents has a nephew that is also the sheriff, and as you'll learn below, the sheriff is threatening to deputize every man, woman, and child in the county and arrest any BLM agents on sight."
FBI Begins Rounding Up Patriots
SUBSCRIBE TO THE TOP STORIES OF THE WEEK IN THE NEWSLETTER HERE
FOR MORE NEWS BY VOICE OF REASON CLICK HERE!
PLEASE SPREAD THIS EVERYWHERE BEFORE THE SOCIAL MEDIA ARM OF THE OBAMA ADMINISTRATION (AKA FACEBOOK) HAS A CHANCE TO SHUT IT DOWN!
It appears the rumors reported on February 11, that 68 Americans were being targeted for arrest for standing up to illegal government land-grabs was accurate. Today, 4 arrests were reportedly made, as Jeff German of the Las Vegas Review Journal revealed the following in his article earlier today titled, FBI Makes More Arrests Related to 2014 Bunkerville Confrontation.
IN TODAY'S ARTICLE, JEFF SAYS:
FBI agents are arresting more people in the investigation into the April 2014 armed standoff with law enforcement near the Bunkerville ranch of Cliven Bundy.
CHECK OUT THE NEW GOOGLE+ PAGE!
FOR MORE NEWS BY VOICE OF REASON CLICK HERE!
Federal authorities could not immediately be reached for comment, but the arrests appear to be part of a nationwide roundup.
A new 63-page federal indictment returned in Las Vegas Wednesday was unsealed in New Hampshire this morning revealing roughly 14 more defendants. Most of the new names of the defendants were blacked out.
One defendant, Gerald DeLemus, was arrested in New Hampshire, court records show.
DeLemus, 61, a former U.S. Marine, was accused of being a "mid-level leader" and organizer who recruited armed Bundy followers for the standoff. Hundreds of Bundy supporters showed up at his ranch.
FACEBOOK | GOOGLE+ | TWITTER | PINTEREST | STUMBLE UPON | TUMBLER
DeLemus, who was at the ranch the day of the April 12, 2014, showdown with BLM and National Park Service rangers, is the husband of a New Hampshire Republican state representative.
The Bundy family's Twitter account this morning said Cliven Bundy's son Dave was arrested in Utah. The Salt Lake Tribune later reported that his wife had confirmed his arrest early this morning near Delta, Utah, where he was building a home. His name does not appear on the new Las Vegas indictment.
Two other people, Bundy family bodyguards Brian Cavalier and Blaine Cooper, were also among those indicted. Both are in federal custody in Portland, Ore., where they face charges in connection with another armed standoff at a wildlife refuge in that state. Both are alleged to be "mid-level" leaders in the Nevada standoff.
Cliven Bundy, his sons Ammon and Ryan, and two supporters were originally indicted by a federal grand jury in Las Vegas on Feb. 17.
They each face 16 felony counts, including extortion, obstruction of justice, conspiracy to impede or injure a federal officer and assault on a federal officer.
All five men who were earlier arrested were described in a 51-page indictment as the leaders of the "massive armed assault" against federal officers a few miles from the Bundy ranch on April 12, 2014. The Bundys used "deceit and deception" to lure followers across the country to Bundy's call to arms, the indictment alleged.
The confrontation aimed to force federal officials to abandon about 400 cattle they had rounded up under court orders, according to the indictment. The Bundy family had been illegally grazing cattle on federal public lands for more than 20 years.
Bundy, 69, is in federal custody and has been ordered transported to Las Vegas to face the charges. He was arrested in Portland last month on his way to support the wildlife refuge standoff in Eastern Oregon. His sons are in custody in Portland on charges stemming from the occupation of the refuge.
The new Las Vegas indictment repeats much of the allegations contained in the original charging document.
Dave Bundy, son of Cliven Bundy, out of Jail
SUBSCRIBE TO THE TOP STORIES OF THE WEEK IN THE NEWSLETTER HERE
This is a developing story. Check back for updates.
Several aspects of this entire corrupt BLM fiasco cannot be stressed enough. First, as you'll learn in the post from two days ago titled, Utah Sheriff to BLM: "I Will Deputize Everyone and Arrest All Federal Agents," the men standing up to the BLM had no choice but to do so. By the BLM's own admission, "working within the system" can take in excess of TWENTY YEARS to go through the whole process, so for anyone to think that men like Cliven Bundy, his sons Ammon and Ryan Bundy, the deceased Lavoy Finicum, or Stanton Gleave (who is the uncle of the Sheriff mentioned above), were left with any other choice other than to make a stand is foolish.
Recall what Lavoy Finicum said in a radio interview last August describing how he, Cliven, and Piute County rancher Stanton Gleave made a pact to come to each other's aid only if they were besieged by federal agents trying to take their land; it was never their intent to pick a fight with the federal government… only to help protect one another from illegal and unconstitutional government overreach.
FOR MORE NEWS BY VOICE OF REASON CLICK HERE!
The next aspect of all this that few Americans are even aware of, is how the standoff at the Bundy Ranch REALLY came to an end. How many Americans know Obama gave the green light to fire, even though there were woman and children there? If not for a movie director who was trying to document the standoff, who is interviewed on the Kelly File clip below, had not dropped his camera and put his own life in danger, the standoff might have had a very different outcome. The following 8:30 video will have your heart pounding, and your stomach in your throat by the 5:30 mark. The director is a true American hero for his actions and the lives he probably saved on both sides.
What REALLY Happened At Bundy Ranch?
FACEBOOK | GOOGLE+ | TWITTER | PINTEREST | STUMBLE UPON | TUMBLER
On February 11th, Julie Wilson reported the following in her article titled: EXCLUSIVE: FBI Sting To Arrest 68 Americans in Massive BLM Cover-up:
[Update: An earlier version of this article reported that the number of Americans being targeted for arrest was 86. The report has been updated to reflect that the true number is 68.]
Nevada rancher Cliven Bundy, 74, was arrested late yesterday evening while exiting a plane at Portland International Airport on his way to Burns, Ore., a town located 30 miles south of the federally claimed Malheur National Wildlife Refuge, the site of a months-long standoff between freedom-loving Americans and the U.S. government.
Celebrated for standing up to government land-grabs in 2014, Bundy has been charged with conspiracy to interfere with a federal officer, an allegation that reportedly stems back to his standoff with the Bureau of Land Management, which tried stripping him and his family of land-use rights they spent a century earning. The charges are identical to those filed against seven protesters (including his son Ammon Bundy) who occupied the wildlife refuge in protest of government overreach.
NewsTarget has received exclusive information that Bundy's arrest, which was made using facial recognition technology and TSA goons, may not be isolated, but is in fact the first of many to come in an effort to silence those who have obtained incriminating information about the BLM and its unlawful land grabs.
GOVERNMENT USING FACIAL RECOGNITION TO APPREHEND LIBERTARIAN ACTIVISTS
In the following video, Alex Jones breaks down an announcement from Department of Homeland Security (DHS) Secretary Janet Napolitano announcing the expansion of the Department's national "If You See Something, Say Something" campaign to hundreds of Walmart stores across the country—launching a new partnership between DHS and Walmart to help the American public play an active role in ensuring the safety and security of our nation.
For those not already aware, in coordination with DHS, Walmart cameras now use Facial Recognition Software. The partnership for DHS was a natural one, since virtually every American has wandered into a Walmart at some point in their daily lives.
Wal-Mart and DHS Partner on Facial Recognition
While taking up occupancy of the Malheur National Wildlife Refuge, protesters reportedly gained access to sensitive information stored on the computers there, revealing sinister plans by the BLM to confiscate privately owned land with uranium reserves before auctioning it off to foreign interests that have donated to the Clinton Foundation, according a source who requested anonymity.
In an effort to suppress this information, the FBI is believed to be conducting a nationwide warrant roundup of protesters and independent journalists involved in the recent protests and standoffs against the federal government. A total of 86 people, including Bundy, are believed to be on the FBI's roundup list and could subsequently be arrested for their "crimes."
The war on indie journalists and citizen protesters refusing to fall in line with the government's increasing tyrannical actions is escalating. Radio show host Pete Santilli, who merely covered the wildlife occupation as a citizen journalist, never spending a single night at the refuge, was also arrested on felony conspiracy charges.
When asked about his role at the wildlife refuge occupation, Santilli replied: "My role is the same here that it was at the Bundy ranch. To talk about the constitutional implications of what is going on here. The Constitution cannot be negotiated."
Constitutional law and human rights attorney John Whitehead wrote that "the government doesn't actually believe that 50-year-old Santilli is an accomplice to any criminal activity. Read between the lines and you'll find that what the government is really accusing Santilli of is employing dangerous speech.
"As court documents indicate, the government is prosecuting Santilli solely as a reporter of information. In other words, they're making an example of him, which is consistent with the government's ongoing efforts to intimidate members of the media who portray the government in a less than favorable light."
The Obama Administration's notorious crackdown on journalists is part of a large-scale government effort to use political correctness and accusations of hate speech to silence First Amendment rights – in turn, attempting to destroy citizen journalism, the only facet of journalism that remains uncontrolled by the establishment.
WHY IS ALL THIS HAPPENING?
If you still don't know why these lands are so important to the government, then you might want to check out the post titled, Breaking News: Obama Orders Hammond Ranch Destroyed! That post was recorded TWO DAYS after the Oregon Siege began! The following two videos are from that post, and they should make it very clear what the government's interest is.
Obama Orders Hammond Ranch Destroyed
Obama Ordered Hammond Ranch Destroyed
NOW, we know that crackdown is beginning, and we also know at least one Sheriff is NOT having it. You can listen to Piute County Sheriff, Marty Gleave, say the following in the video below:
"We're not taking no more cuts on the Mountain. I'll deputize every man, woman and child in the county to stop what's going on," Sheriff Gleave said, referring to Monroe Mountain, where the Forest Service has taken grazing permits from Stanton Gleave and another rancher, Keith Anderton.
Sheriff Threatens to Deputize County To Arrest BLM
WE SHOULD EXPECT THE MAINSTREAM MEDIA TO BURY THIS…
WHY ARE THE PRESIDENTIAL CANDIDATES NOT BEING QUESTIONED?
In several posts I've called to your attention a 2012 Department of Defense training manual, obtained by a Judicial Watch Freedom of Information Act Request, "Domestic Extremists" are defined as:
1. "Americans who are 'reverent of individual liberty,' and 'suspicious of centralized federal authority' are possible 'extreme right-wing' terrorists.
2. The document linked above also lists people who embrace "individual liberties" and honor "states' rights," among other characteristics, as potential "extremists" who are likely to be members of "hate groups."
3. Finally, the document goes on to call the Founding Fathers, "extremists."
Many Americans may not have agreed with the course of action Ammon Bundy chose to take, but as you read above, the process can take in excess of 20 years because of all the bureaucratic bullsh**, so my hat is off to him and his group. Would I have done what Bundy's group did? No, probably not, but only because I'm not half the man Bundy is to have risked his freedom for our rights, while we all did nothing. I am however, man enough to admit that. Before the current crimes being played out by the Federal government get any worse, and Marty Gleave is forced to deputize ever man, woman, and child in his county, I encourage you to watch the following as you decide what side of the line you want to stand on:
FOR MORE NEWS BY VOICE OF REASON CLICK HERE!
FACEBOOK | GOOGLE+ | TWITTER | PINTEREST | STUMBLE UPON | TUMBLER
FOR MORE ON THE OREGON STANDOFF:
Mrs. Hammond Writes Letter to"The Oregonian"
Carol Bundy Issues Call to Arms For Militia to Join Them in Oregon vs. Feds
Obama Wanted War: Now 150 Armed Militia Have Seized a Federal Building In Oregon
Breaking News: Obama Orders Hammond Ranch Destroyed!
The World is on Fire; Obama Declares U.S. Constitution Public Enemy #1
FBI Caught On Video Preparing For Standoff With Militia; Reporter Speaks To Ryan Bundy
Second American Revolution Requires Just One Bullet Be Fired
Oathkeepers Issue Evacuation Order For Women and Children at Oregon Standoff!
Oregon Militia Confirms They Are Not Leaving; Ready to Die For Freedom
Bundy Militia Standoff: Ticking Time Bomb to Force Another American Revolution
FBI Attempting to Shut Down Alt Media With Oregon Standoff (Recorded Call)
Judge and 2 US Marshals in Route to Restore Constitutional Rule of Law
Oregon Situation Heating Up: Bundy Militia Suffers First Arrest Today
Waco/Ruby Ridge Style Shootout Inevitable at Bundy Standoff in Oregon? (Videos)
Bundy's Militia: "Feds Are Pressuring DCS to Remove Our Kids From Home To Force Surrender"
Militia: "We'll Fight Until Death To Hold Refuge" – Streaming Until Batteries Die"
Blaine Cooper: "Finicum Left His Firearms at Refuge the Day Police Killed Him" (Audio)
From Jail: A Statement From Ammon Bundy to the Public Today, Feb 4 2016
Shocking New Secrets on the FBI-Sanctioned Assassination of LaVoy Finicum (Video)
Martial Law in Burns, Oregon: Post Siege, Feds Terrorizing Local Citizens at Gunpoint
Utah Sheriff to BLM: "I Will Deputize Everyone and Arrest All Federal Agents!"
FOR MORE ON OBAMA'S TREASONOUS ACTS!
Email From Colonel Harry Reilly About Obama's Articles of Impeachment Vote 1/13
Resolution Drafted For Obama Impeachment Consists of 48 Criminal Charges
Obama Caught Smuggling In Up To 100,000 Refugees Per Year on UPS Planes!
Four-Star Navy Admiral Blasts Obama For Treason, and Reveals Obama's Plans
Top Obama Appointee: "President Knowingly and Willingly Armed ISIS"
Former FBI Assistant Director Risks His Life – Just Exposed Obama In Huge Way!
The Proof You've Wanted Regarding Obama's Treason
Former CIA Director Unloads, Then Issues Severe Warning About Obama
FACEBOOK | GOOGLE+ | TWITTER | PINTEREST | STUMBLE UPON | TUMBLER
DONATIONS ACCEPTED VIA PAYPAL TO GET THE RADIO SHOW UP AND RUNNING…
GO TO: WWW.THELASTGREATSTAND.COM TO MAKE A SMALL DONATION
COMING SOON TO INTERNET RADIO!
STAY TUNED!
FACEBOOK | GOOGLE+ | TWITTER | PINTEREST | STUMBLE UPON | TUMBLER