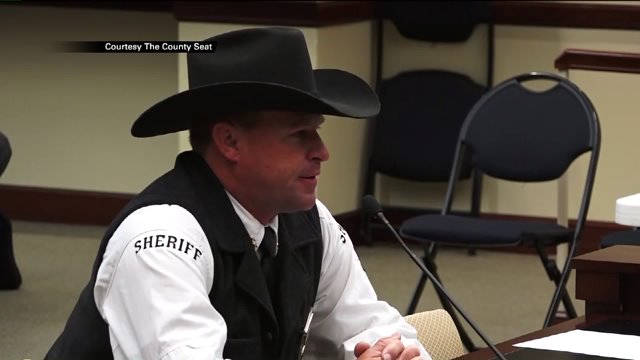 BRAND NEW 3/3: FBI Started Arresting Patriots For Opposing BLM Illegally Seizing Land (Video)
By all accounts, it looks like another standoff with Obama's BLM is brewing once again, and some of the names involved are all too familiar. The major difference between this standoff and the Burns, Oregon ranch, is that one of the men Lavoy Finicum had a pact with to protect each other from federal agents has a nephew that is also the sheriff, and as you'll learn below, the sheriff is threatening to deputize every man, woman, and child in the county and arrest any BLM agents on sight.
PLEASE SPREAD THIS EVERYWHERE BEFORE THE SOCIAL MEDIA ARM OF THE OBAMA ADMINISTRATION (AKA FACEBOOK) HAS A CHANCE TO SHUT IT DOWN!
Utah Attorney Todd MacFarlane actively supported ranching scofflaws Cliven Bundy, Wayne Hage, Mary Bulloch, and LaVoy Finicum. He now represents the Finicum family and, working with Smith, is engaged in a dangerous game of recruiting ranchers, miners, and other federal "permittees" to sign a pledge document to boycott paying their fees.
LaVoy Finicum pitched the same cowboy revolt in November 2015, one that included the provision that when the federal government takes action, ranchers were offered a variety of militant services that would come to protect them during their own future standoff. […]
THE GOVERNMENT IS UP TO THEIR ILLEGAL AND UNCONSTITUTIONAL WAYS ONCE AGAIN!
The federal government is only allowed to own Washington DC and military installations as per Article I, Section 8, Clause 17 of the Constitution. Furthermore, per Article I, Section 8, Clause 1, the BLM, FWS, Department of Interior, Forestry Service, and many other federal agencies are wholly Unconstitutional and disallowed. However, it is the two little words "general welfare" that have been misapplied and abused by DC legislators for decades which has led to the creation of such agencies; the same ones which exercise such egregious overreach and disregard for our rights, our families, and all Americans every day.
SUBSCRIBE TO THE TOP STORIES OF THE WEEK IN THE NEWSLETTER HERE
With images of Finicum and the Bundys at Malheur, MacFarlane consistently returned to the term "critical mass," a well-known proverb of community organizing.
What is critical mass? An excerpt from "Critical Mass Theory" by Pamela Oliver explains.
"The term 'critical mass' originates in nuclear physics, as the smallest amount of fissile material needed to sustain a nuclear chain reaction. As analogy or metaphor the term has diffused into popular culture and social science and is widely used to refer to any context in which things change after a certain number of people get together or enter a setting. … Social movement activists and scholars often use 'critical mass' in a loose metaphorical way to refer to an initial group of protesters or actors that is big enough to accomplish social change."
For MacFarlane — and, at the time, Finicum — critical mass for Malheur meant a certain number of federal permittees who sign pledges to boycott paying for their permits. The exact number of ranchers to reach that mass is something they can determine.
FACEBOOK | GOOGLE+ | TWITTER | PINTEREST | STUMBLE UPON | TUMBLER
Eight ranchers came out of the Cedar City Workshop having signed the pledge with two from other states announced the same day in a Malheur press-signing ceremony. On Jan. 24, LaVoy Finicum called these pledges "Emancipation Proclamations" and seemed quite encouraged by the news while indicating that the FBI was becoming more hawkish regarding their occupation.
On Jan. 25, Sen. Ron Wyden of Oregon said he had met with FBI Director James Comey, stating that the "virus was spreading." This virus and increased presence very well could have been a result of this long-term strategy of continual untenable rancher standoffs being planned for and executed by Finicum, MacFarlane, Smith, and others.
On Jan. 26, the standoff at Malheur effectively ended, with the arrest of the command and the death of Finicum. A total of 25 people as of the time of this writing have been indicted for their involvement in either or both the 2014 Bunkerville and 2016 Malheur standoffs, and sources say there are current, sealed federal indictments that were filed Jan. 26 in Salt Lake City.
[…]
Understand that the legal requirements of administrative due process for enforcement action against a federal permittee for trespassing or any other violation takes time. It entails a series of letters and accrued penalties, then legal action, and finally judicial decision. This process can take years, over 20 in the case of Cliven Bundy. Finicum himself had just begun the process, his family now facing over $12,000 in penalties and fees.
PROTECT YOUR FAMILY BEFORE THE CRASH!
STOCK UP ON FOOD SUPPLIES WHILE THERE IS STILL TIME!
Because the administrative process for permit enforcement is a long one that must comply with the Administrative Procedures Act, land management and law enforcement agencies that have boycotting ranchers in their jurisdictions can expect to face years, perhaps decades, of individual Malheur/Bundy standoffs spread throughout the West — mostly in Utah, and it seems soon in Paiute County.
At the Rural Caucus event, Sheriff Marty Gleave of Piute County stated that he told the U.S. Forest Service he would use his deputies to drive cattle for a permittee to their allotment if they didn't allow the rancher to do so. Additionally, the January Piute County Commission meeting minutes indicate that Gleave threatened USFS officials with arrest if they took action to impound the cattle of an out-of-permit-compliance rancher.
In a radio interview last August, Finicum described how he, Cliven, and Piute County rancher Stanton Gleave made a pact to come to each other's aid. Appearing to make good, Gleave is one who signed MacFarlane's pledge in Cedar City.
As with Sheriff Gleave, Stanton was also a speaker at the Rural Caucus on February 12th, waving a Skousen Pocket Constitution and saying, "They tell me there's no law above that Sheriff of the County … so it's very important we back the Sheriff. He can protect us and deputize every man and woman in the county if he has to."
New BLM Standoff With Finicum Ally
FOR MORE NEWS BY VOICE OF REASON CLICK HERE!
FACEBOOK | GOOGLE+ | TWITTER | PINTEREST | STUMBLE UPON | TUMBLER
PIUTE COUNTY, Utah — It's the second smallest county by population in Utah, but Piute County is making a lot of noise in the Western Land Movement these days.
Longtime rancher Stanton Gleave is at the center of a conflict that includes the County Sheriff on one side and the U.S. Forest Service on the other. Gleave wore his cowboy hat and held up a pocket edition of the U.S. Constitution as he spoke with the Rural Caucus of the Utah State legislature on Feb. 12.
"These federal people have no right to be here if you follow (the Constitution)," Gleave said.
The Piute County Sheriff, Marty Gleave, (We're told Marty is Stanton's nephew) also talked with the Rural Caucus.
"We're not taking no more cuts on the Mountain. I'll deputize every man, woman and child in the county to stop what's going on," Sheriff Gleave said, referring to Monroe Mountain, where the Forest Service has taken grazing permits from Stanton Gleave and another rancher, Keith Anderton.
The Forest Service is working to revitalize aspen growth on Monroe Mountain. Seventy-four percent of the land in Piute County is controlled by the Bureau of Land Management and the Forest Service. Listen to Piute County Sheriff, Marty Gleave below:
Sheriff Threatens to Deputize County To Arrest BLM
SUBSCRIBE TO THE TOP STORIES OF THE WEEK IN THE NEWSLETTER HERE
I have already documented in a previous post titled, The FBI Has Been Attempting to Shut Down All Forms of Alternative Media With Regard to the Oregon Standoff. Based on the FBI's previous efforts, I have to assume at some point this post will be seen by Feds, and for that reason I will not say how I REALLY feel. I live in fear of what my government might do to me if I did say how I feel. It's almost a given that Facebook will catch this post, and attempt to censor it by suspending me again, so please spread it as quickly as possible.
I will go on record saying this: Those boys in Oregon needed our help… and we let them down. They deserved our help because they were willing to stand up and fight for our rights, even when many of the Americans who criticized them did so because they were too damn ignorant to see what is really happening all around us.
As the article above mentions, one of the men Lavoy Finicum had a pact with is now under siege, and as many of you know, both Bundy brothers and Cliven Bundy remain behind bars so no one can hear them. In Oregon, "We the People" failed Ammon Bundy's group by not showing enough support when they asked for it in Oregon. We let those men down by not standing with them, when they were standing for OUR rights.
FOR MORE NEWS BY VOICE OF REASON CLICK HERE!
That's as much as I'll say, because recently I reviewed the current policy of the Obama administration and the Department of Homeland Insecurity's policy for what they label as "Domestic Extremists" these days. You won't believe this! The following is from a post titled, The Department Of Justice Prepares To Step Up War On "Domestic Extremists:"
In a 2012 Department of Defense training manual, obtained by a Judicial Watch Freedom of Information Act Request, "Domestic Extremists" are defined as:
1. "Americans who are 'reverent of individual liberty,' and 'suspicious of centralized federal authority' are possible 'extreme right-wing' terrorists.
2. The document linked above also lists people who embrace "individual liberties" and honor "states' rights," among other characteristics, as potential "extremists" who are likely to be members of "hate groups."
3. Finally, the document goes on to call the Founding Fathers, "extremists."
Many Americans may not have agreed with the course of action Ammon Bundy chose to take, but as you read above, the process can take in excess of 20 years because of all the bureaucratic bullsh**, so my hat is off to him and his group. Would I have done what Bundy's group did? No, probably not, but only because I'm not half the man Bundy is to have risked his freedom for our rights, while we all did nothing. I am however, man enough to admit that. Before the current crimes being played out by the Federal government get any worse, and Marty Gleave is forced to deputize ever man, woman, and child in his county, I encourage you to watch the following as you decide what side of the line you want to stand on:
FOR MORE NEWS BY VOICE OF REASON CLICK HERE!
FACEBOOK | GOOGLE+ | TWITTER | PINTEREST | STUMBLE UPON | TUMBLER
FOR MORE ON THE OREGON STANDOFF:
Mrs. Hammond Writes Letter to"The Oregonian"
Carol Bundy Issues Call to Arms For Militia to Join Them in Oregon vs. Feds
Obama Wanted War: Now 150 Armed Militia Have Seized a Federal Building In Oregon
Breaking News: Obama Orders Hammond Ranch Destroyed!
The World is on Fire; Obama Declares U.S. Constitution Public Enemy #1
FBI Caught On Video Preparing For Standoff With Militia; Reporter Speaks To Ryan Bundy
Second American Revolution Requires Just One Bullet Be Fired
Oathkeepers Issue Evacuation Order For Women and Children at Oregon Standoff!
Oregon Militia Confirms They Are Not Leaving; Ready to Die For Freedom
Bundy Militia Standoff: Ticking Time Bomb to Force Another American Revolution
FBI Attempting to Shut Down Alt Media With Oregon Standoff (Recorded Call)
Judge and 2 US Marshals in Route to Restore Constitutional Rule of Law
Oregon Situation Heating Up: Bundy Militia Suffers First Arrest Today
Waco/Ruby Ridge Style Shootout Inevitable at Bundy Standoff in Oregon? (Videos)
Bundy's Militia: "Feds Are Pressuring DCS to Remove Our Kids From Home To Force Surrender"
Militia: "We'll Fight Until Death To Hold Refuge" – Streaming Until Batteries Die"
Blaine Cooper: "Finicum Left His Firearms at Refuge the Day Police Killed Him" (Audio)
From Jail: A Statement From Ammon Bundy to the Public Today, Feb 4 2016
Shocking New Secrets on the FBI-Sanctioned Assassination of LaVoy Finicum (Video)
Martial Law in Burns, Oregon: Post Siege, Feds Terrorizing Local Citizens at Gunpoint
FOR MORE ON OBAMA'S TREASONOUS ACTS!
Email From Colonel Harry Reilly About Obama's Articles of Impeachment Vote 1/13
Resolution Drafted For Obama Impeachment Consists of 48 Criminal Charges
Obama Caught Smuggling In Up To 100,000 Refugees Per Year on UPS Planes!
Four-Star Navy Admiral Blasts Obama For Treason, and Reveals Obama's Plans
Top Obama Appointee: "President Knowingly and Willingly Armed ISIS"
Former FBI Assistant Director Risks His Life – Just Exposed Obama In Huge Way!
The Proof You've Wanted Regarding Obama's Treason
Former CIA Director Unloads, Then Issues Severe Warning About Obama
PROTECT YOUR FAMILY BEFORE THE CRASH!
STOCK UP ON FOOD SUPPLIES WHILE THERE IS STILL TIME!
FACEBOOK | GOOGLE+ | TWITTER | PINTEREST | STUMBLE UPON | TUMBLER
DONATIONS ACCEPTED VIA PAYPAL TO GET THE RADIO SHOW UP AND RUNNING…
GO TO: WWW.THELASTGREATSTAND.COM TO MAKE A SMALL DONATION
COMING SOON TO INTERNET RADIO!
STAY TUNED!
FACEBOOK | GOOGLE+ | TWITTER | PINTEREST | STUMBLE UPON | TUMBLER