It's 9:30pm EST, and as of three hours ago, the the situation in Oregon seems to be reaching a "tipping point" after a conference between both sides earlier today did not go well.
Sheriff David Ward, the same Sheriff David Ward I might add, who has gone on the public airwaves numerous times claiming that Ammon Bundy's group was in Burns, Oregon, to stage an overthrow of the local government, and start a national uprising, decided to actually speak with a member of Bundy's group today rather than continue to make up facts as he goes, which has been the case so far.
What's worse, not one member of ANY news organization has even bothered to ask Sheriff Ward where he was getting his information. Isn't that journalism 101? Preschool even?
In just a bit, I'll do my best to explain how I believe that single "oversight" is setting the stage for how this whole ordeal ends.
Keep in mind I've been immersed in this standoff since it began, and I can't possibly write all I've seen, but when I share my hypothesis, I'm pretty sure you'll agree what has taken place has a very "playbook" feel to it.
Get 80% Off World's Best Military Flashlight! Due To Holiday Overstock Get Them At A DEEP Discount!!!

Oregon Sheriff Says Militia Has 'No Intention' of Leaving
SUBSCRIBE TO THE TOP STORIES OF THE WEEK IN THE NEWSLETTER HERE
FOR MORE NEWS BY VOICE OF REASON CLICK HERE!
In the video above, the sheriff can be heard speaking in a very condescending voice to Ammon Bundy. It's hard to make out exactly what either man says, so I'm paraphrasing, but the Sheriff more or less says something to the effect of, "Ok boys, at some point this has to get resolved, you've made a point, and this seems like a good time to pack it in. I've told members of Congress and the Senate you want to talk to them, but come on, enough is enough. I can't promise what the feds will or won't do once you're out of the refuge, but I can promise you safe passage out of Burns."
After just a few minutes, you'll hear what sounds like Ammon Bundy interrupt the Sheriff, and say very matter of fact, "So you're not even going to acknowledge the redress of grievances we've laid out? It's got over 100,000 signatures from all fifty states, and it's your job as a public servant to acknowledge the redress of grievances. You're not even going to do that?"
That's when it became pretty clear the Sheriff was there to do little more than patronize the group, as he wasn't even going to acknowledge WHY they are there. The conversation is very muffled, but you can distinctly hear Ammon Bundy say FIVE times that his group does not mean anyone harm, and they have no intention of hurting anyone.
Get 80% Off World's Best Military Flashlight! Due To Holiday Overstock Get Them At A DEEP Discount!!!
That sentiment is echoed in a later video. The meeting closed with Ammon telling the Sheriff, "It's time to get the schools opened, get the community back to living. We do NOT pose a threat, so you can do all those things without us leaving." That comment, and a few others I will cover in further detail in my video below, giving a broad overview of where things stand overall. I think it's pretty easy to see what is going on here… and it's not good.
FACEBOOK | GOOGLE+ | TWITTER | PINTEREST | STUMBLE UPON | TUMBLER
CHECK OUT THE NEW GOOGLE+ PAGE!
The Harney County Sheriff's Office has requested assistance from state and federal officers from the 36 other counties in Oregon until a peaceful resolution is reached with those occupying Malheur National Wildlife Refuge.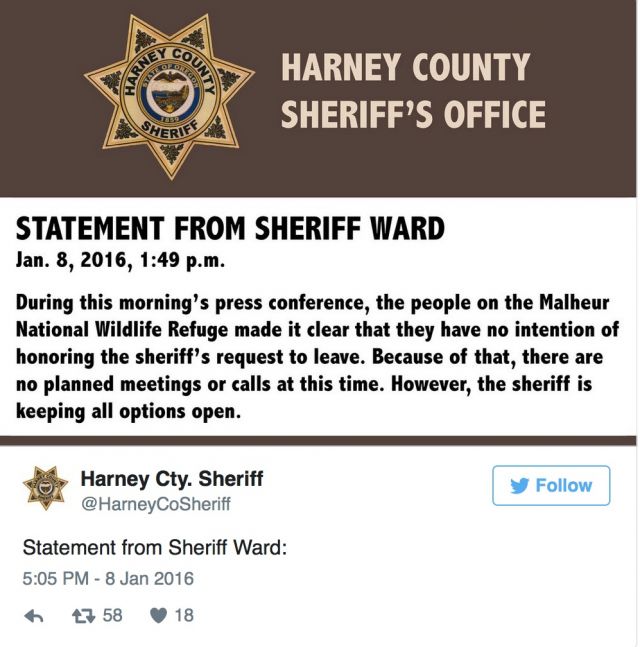 Sheriff David Ward said in a statement that the militia and members of the Bundy family have "no intention" of leaving the federal land. In a meeting Thursday to resolve the standoff, Ward asked Ammon Bundy to "respect the wishes of Harney County residents" and vacate the land.
"We petitioned our representatives," Ammon said. "I gave them notice, and they did not even respond."
"Let's work it out," Ward told Bundy. "Let's get our community back to normal."
Oregon Sheriff Calls Meeting to End Standoff in 'Peaceful Resolution'
Feds Take Low-Key Approach to Oregon Standoff
FBI Monitoring Armed Standoff in Oregon National Wildlife Refuge
"I'm here to talk to give you guys the opportunity to leave the county peacefully and get back to your families," Ward said, after acknowledging that he understands the group's desire to be heard.
"We pose no threat to the community," Bundy said, suggesting to Ward that schools should be reopened.
Rick Bowmer/AP Photo
Cowboy Dwane Ehmer, of Irrigon Ore., a supporter of the group occupying the Malheur National Wildlife Refuge, rides his horse at Malheur National Wildlife Refuge Friday, Jan. 8, 2016, near Burns, Ore.
On Saturday, a rally began support of Harney County ranchers Dwight Hammond Jr. and Steven Hammond, who were to report to prison Monday on arson charges on land they leased for cattle grazing.
After Saturday's protest, militia, along with sons of Cliven Bundy, initiated the occupation of the headquarters of the Malheur National Wildlife Refuge.
As I said in my video, and as you can learn more about below, Oathkeepers On the Ground Have Already Issued Evacuation Orders For All Women and Children at Oregon Standoff, a likely sign that the intensity is about to get ratcheted up quite a bit. Sputnik News Reports:
The Oath Keepers have issued an urgent warning for the militia occupying a federal building in Oregon to keep women and children away, claiming to have received a tip that military special operations assets have been assigned to the stand off.
In the statement, the group spoke of the horrors at Waco and Ruby Ridge, and expressed their distrust that the Obama administration will not repeat those mistakes at the Malheur National Wildlife Refuge.
"This is not a 'free speech' barbecue at Bundy Ranch with live music by Jordan Page," the Oath Keepers' statement reads. "This is a whole different animal. There should be no women and children there at all. This is not a family event. This is an armed occupation of a government building and the only people staying there should be the armed men who are willing to die there with Ammon Bundy and his brothers and a couple of embedded reporters."
"If adults want to visit them and put themselves at risk, that is their choice, but don't bring children. If a dozen men die in a shootout, that is one thing, but if children die, there will be a civil war."
I am of the distinct belief that ANY bloodshed could very easily lead to civil war. One theme that seems to run steady throughout every level of government, from the Oval Office all the way down to the local sheriff, is how utterly clueless they all are about just how ANGRY We the People are. I'm just waiting for someone to actually say, "Put your little Constitution away. Fun and games are over. We're in charge." I get the sense that there isn't anyone at any level of government who actually "gets" the reason there are a hundred armed men in that refuge to begin with! People are SICK of the political class and their lawlessness.
OathKeepers Issue Evacuation Order For Women and Children at Oregon Standoff!
CHECK OUT THE NEW GOOGLE+ PAGE!
The next video highlights my previous point perfectly. Considering how long the government has been harassing some of these ranchers and stealing their land, don't you think the ranchers have tried and tried and tried all of the other "legal" procedures put in place for them to have arrived HERE, at the point they are willing to DIE to be heard? It's not just the ranchers either. How many Tea Party groups are STILL going through a nightmare with the IRS? All because the system is broken, and by "the system", I mean big government. Once you get caught in the gears of the massive federal leviathan, you never get out, you just go broke, and have the house in this game take all. Cane you name an area of government that does not work that way??? The point I am making here is summed up with the very last video.
At the very bottom of the post, before the links concerning Obama's treason, his gun grabs, and the arming of federal agencies to the teeth so they will deal with situations like Oregon, I have included one additional video which has been wildly popular with viewers. It's set to music, made by a former Marine Corps Sergeant, and you'll be ready to run through a brick wall when you finish viewing it. Here's the thing: In that video, Sergeant Dire specifically says,
Today I'm here to speak to you about the state of our great union, what the Founders intentions for the country were, and the lack of motivation I see my fellow countrymen to retain the freedoms fought for so hard by their forefathers…
Thomas Jefferson wrote, "If a nation expects to be ignorant and free, in a state of civilization, it expects what never was, and what never will be."
Patriots, at this crucial point in our nations history, information and knowledge are key, they mean the different between retaining or losing this republic.
Our Founders believed in the potential of this country so greatly, that they gave their lives, and some of them even watched as their children were slaughtered on the battlefield, and others lost everything, and died penniless. They endured greater pains than you or I could ever even fathom, simply so their children and grandchildren could prosper without the wolf of tyranny knocking at their door.
MY COUNTRYMEN… MY BROTHERS… THAT WOLF IS NOW AT OUR DOOR…
That evil that they warned us of has come upon us like a thief in the night. It has crept slowly into our lives, and is now preparing for it's final blow. We have not heeded the words of our Forefathers, and for that, we may have to pay dearly to regain our republic. I'm sorry, but there is a chance our republic can no longer be saved by political means… they have all but extinguished our hopes of a diplomatic resolve.
"THEY HAVE ALL BUT EXTINGUISHED OUR HOPES OF DIPLOMATIC RESOLVE…"
As the video below shows, one of the members of Bundy's gang has told the FBI he would rather die defending the building than surrender to them. While I can't be certain, I'm pretty damn sure that man doesn't want to die, but the government has drained him of all hope. With it's unlimited resources, and it's willingness to ignore the law to achieve its own agenda, who knows what that man may have lost and will never get back. I'm certainly not in a frame of mind like the man in the video below, and despite this TERRIBLE Obama economy, I'm doing pretty good. I have a nice home, money saved, don't want for much, but there are 94 MILLION Americans out of work, and I imagine a great number of them have had as much as they can take too. Virtually every level of every government bureaucracy has been deliberately engineered to wear out the person with a grievance rather than help them or even listen to the problem. As a result…
"THEY HAVE ALL BUT EXTINGUISHED OUR HOPES OF DIPLOMATIC RESOLVE…"
I DON'T CONDONE IT… BUT I UNDERSTAND!
SUBSCRIBE TO THE TOP STORIES OF THE WEEK IN THE NEWSLETTER HERE
FOR MORE NEWS BY VOICE OF REASON CLICK HERE!
Next week on January 13th, the Republican National Committee is going to decide whether or not they will consider a North American Law Center prepared resolution drafted for the impeachment of President Barack Obama. A copy is included below. Folks, the system is broken when we have Articles of Impeachment that lists 48 separate crimes and acts of treason by Barack Obama, and there has to be a "discussion" about whether or not they will get filed because it may hurt the Republicans politically. To hell with We the People, the country is going down in flames, and a President is accused of 48 separate crimes, Republicans need to get re-elected damnit!
That is precisely why I sent out an Email From Colonel Harry Reilly About Obama's Articles of Impeachment Vote 1/13. In it you'll learn that RNC Committeeman David Agema is leading the charge to impeach Obama, and he DOES have a number of co-sponsors and supportive messages for the resolution, but he's also getting MASSIVE backlash from RNC Chair Priebus, and a few of his minions like Bruce Ash of Arizona, who is taking preemptive moves on the committee to block the Agema Resolution from even being considered at the RNC meeting next week. In the email included within that link, it says the following:
SPECIFIC CALL TO ACTION!
THERE IS NO CHANCE THE RNC WILL PASS THIS RESOLUTION WITHOUT YOU CONTACTING YOUR REPS AND CALLING UPON THEM TO DO SO!
YOUR VOICE AT THIS CRITICAL MOMENT IS VITAL!
NALC: Articles of Impeachment of Barack Hussein Obama
CHECK OUT THE NEW GOOGLE+ PAGE!
BELOW IS THE NUMBER TO EVERY MEMBER OF CONGRESS!
Do you know what every person in Congress cares about more than anything else? Sure, their party leader is up there on the list, but NOTHING comes before their own seat at the table. Nothing! Call them relentlessly, make these fools believe they've lost their seat at the table come election day, and then tell them how they can earn their keep. Obama HAS to go.
Here is the number to every member of Congress and the Senate
THAT is how the system works in our country. With 94 MILLION unemployed Americans, the phones on the Hill should ring from sun up, to sun down without so much as one second where they aren't giving every single person within earshot a skull piercing headache! If we make the lives of every member of Congress a living hell, eventually they'll conform to OUR will, which is the way it should be.
ENJOY THE VIDEO!