Based on what is being reported by various liberal rags, it seems pretty clear that neither the liberal mainstream media, nor the liberals in Congress learned a single thing from the absolute slaughter they just experienced on November 9th. Liberal hacks over at Politico (among other places), are reporting that Clinton's lead in the popular vote has actually surpassed 2 million, and they continue to push a very dangerous narrative about how electors who are scheduled to formally cast their votes for Donald Trump on December 19th, should instead switch their votes to Hillary Clinton.
Back on November 15th, in an article titled, Sorry Protestors: Looks Like Hillary Got Pummeled in the Popular Vote Too, I justified saying that Hillary got pummeled based on reports from Greg Phillips of the nonpartisan group VoteFraud.org. Phillips reported, "We have verified more than three million votes cast by non-citizens."
Based on the report from Phillips, it appears that all the "fake news" outlets reporting that Hillary won the popular vote aren't very good at arithmetic. Even IF the most up to date count showed she was ahead by two million votes, what happens after three million illegal votes that don't count are taken away from that total vote count ? Hillary loses the popular vote by one million votes.
In typical Clinton fashion, the fraud went way beyond just the illegals. Now, a second nonpartisan group, watchdog.org claims that as many as almost 7 million American votes might have been fraudulent, because of course there were plenty of dead people voting too. In the video below, Alex Jones cites even more sources that prove without a doubt that the "fake news" coming from those crying the loudest about "fake news," is… well… fake! Here are the cold hard facts:
Democrats have lost 60 House seats since 2010, 242 state legislative seats, 30 state legislative chambers that had a Democrat majority have now flipped to Republican majorities, and Republicans control roughly 2/3 of the State Governorships now too. The mandate from the American people is crystal clear. In fact, it hasn't been this clear since 1929 to be precise.
Aside from how pathetic liberals look with their asinine and utterly vein attempts to undermine Trump's win, at this point their behavior is beginning to get downright dangerous, and they don't care. Face it, the liberal base has proven itself to be as gullible and uninformed as an electorate could possibly ever be, and the mainstream media knows that, so they keep publishing pure garbage (aka "fake news"), and it's the equivalent of throwing rocket fuel on an already burning raging inferno.
All across the country, in over 200 cities, people are protesting based on pure lies, and how long before one of the really obnoxious liberal groups finds itself face to face with a heavily armed group trying to prevent damage to their property? It's just a matter of time. Furthermore, this past week 5 police officers across the country have been executed since last Sunday.
Anyone who thinks a group that walks around chanting, "What do we want? DEAD COPS! When do we want it? NOW," isn't emboldened by the media telling them they've been robbed, is a fool. The 2016 election was an absolute slaughter, plain and simple. Democrats at every level got slaughtered, plain and simple.
Democrats have no one to blame but Democrats, and a quick glance at a history book will prove precisely WHY Democrats were slaughtered. False promises and redistributive economics does NOT work. It never has, and it never will… never.
SUBSCRIBE TO THE TOP STORIES OF THE WEEK IN THE NEWSLETTER HERE
FOR MORE NEWS BY VOICE OF REASON CLICK HERE!
Liberals have been claiming that the electoral college needs to go. Their reasoning is that Hillary Clinton actually won the popular vote, so clearly, the majority of the American people want her. But is that really true? One watchdog organization claims that almost 7 million American votes could be fraudulent.
Watchdog.org reports that approximately 6.9 million people are registered to vote in two or more states. "Our nation's voter rolls are a mess," says Catherine Engelbrecht, president of True the Vote, says. She claims that special interest groups fight common-sense reforms that would help with maintenance so that they can continue abusing the system. "Sensible approaches to roll maintenance are fought tooth and nail by radical special interests who can use the duplicity in the system to their advantage," Engelbrecht claims.
28 states have been found to be involved in the potential voter fraud, including California, Florida and Texas. "Duplicate registration is an open invitation to voting fraud," said Clara Belle Wheeler, a member of the Election Board in Albemarle County, VA. "This ability to vote more than once dilutes the legal votes and changes the results of elections."
(Photo by J.D. Pooley/Getty Images)
As it stands now, an interstate cross-check program looks for first names, last names and birth dates to check for multiple registrations. But some believe the data isn't used to get rid of duplicate registrations. "Increasingly lax standards in our election process produce increasingly unreliable results," Engelbrecht said.
According to Jay DeLancy, executive director of the Voter Integrity Project of North Carolina, the solution to the issue is simple. "First, tie registrations more closely to (each state's) Department of Motor Vehicles. All voter ID cards would originate there," he said. "As it is today, when we get an ID card from DMV, we get registered to vote — but turning in your former state's ID card should revoke your right to vote in the state that issued it.
"Second, make it a felony to possess a voter ID card — or any other DMV-issued ID card — from more than one state. Third, we would only be allowed to vote from the address on that ID card. If a voter shows up with the wrong address, the vote is provisional until the card is corrected. We don't need a federal ID card to do this. In fact, it wouldn't require any more feds to be hired."
So, if it really is that easy to prevent voter fraud, then perhaps Engelbrecht is right and it's that special interest groups are putting their agenda first and preventing the problem from being solved.
SUBSCRIBE TO THE TOP STORIES OF THE WEEK IN THE NEWSLETTER HERE
FACEBOOK | GOOGLE+ | TWITTER | PINTEREST | STUMBLE UPON | TUMBLR
CRITICAL POSTS ABOUT HILLARY'S POOR HEALTH:
CNN: "Drunk Hillary" Beat Sh*t Out of Bill Clinton on Election Night
Was Hillary Clinton Wearing a Wire and Earpiece for Hofstra Debate (Video)
Hillary's Obituary Prepares Masses for Crushing Clinton Defeat (Video)
Dr. Milton Wolf Proves Hillary's "Pneumonia" Story Is Impossible… (Video)
Shocking Email: Hillary Asks NFL's Roger Goodell for Help Treating 'Cracked Head' (Video)
Medical Community Worried About Hillary's Obvious Declining Health (Video)
Hillary Clinton Freezes in Fear – Secret Agents Says To "Keep Talking" (Video)​
See Which Doctors Say Hillary Clinton is Hiding Major Health Issue (Videos)
Everything You Need to Know About Hillary's Health All in One Post (Videos)
Hillary's Poor Health and Odd Behavior: Massive Cover-Up Continues (Video)
MORE EGREGIOUS HILLARY POSTS:
Sorry Protestors: Looks Like Hillary Got Pummeled in the Popular Vote Too (Video)
Private Militia Groups Actively Preparing for Fraudulent Hillary Win (Videos)
Reason Wi-Fi on Hillary's Campaign Jet Was Turned Off Should Chill You (Video)
Stefan Molyneux Reviews All 3 Scandals: Hillary, Weiner and Loretta Lynch (Video)
Shocking and Disturbing: Top 100 Hillary Bombshell Wikileaks Leaked So Far
Tomi Larhen Just Accused Hillary of Threatening to Murder Bernie (Video)
Hillary Walks Out on Press Conference When Asked about Undercover Fraud Videos
Trump's New Hillary Ads Will Have Her Crying Herself to Sleep Tonight! (Video)
Hillary Clinton: All Her Disastrous Leaked Audio Recordings (Actual Audio)
Wikileaks: Clinton Lawyers Advise Hillary How to Break Law and Not Get Caught
As Prophesied: Hillary Vows to Shut Down Breitbart/Infowars if Elected! (Video)
Hillary's New Investigation Is No Joke; Possibilities Aren't Either (Videos)
Shadow Government: WikiLeaks Exposes George Soros Controlling Clinton
FBI Director Comey Working Behind the Scenes on 'Suprise' Hillary Arrest (Video)
Julian Assange Drops Bombshell Involving Murder on Hillary Clinton (Video)
DNC Insider: Clinton Being Pounded in Polls – Don't Believe Mainstream Media! (Video)
Clinton Adds +5 to Body Count in 6 Weeks Totaling 67 Dead Associates (Video)
Julian Assange (7/27/16): "Next Leak Will Lead to Arrest of Hillary Clinton" (Video)
NSA Whistleblower Shocks Radio Host: We Have All Hillary's Deleted Emails (Video)
Former Clinton Hitman Confesses to Murdering People for Money (Video)
Trump Releases Second Hillary "Legendary Lie" Video; Leaves Her In Shock (Video)
C.I.A. Links Top Clinton Donor, George Soros, to Terrorist Bombing (Videos)
Clinton Author Drops Huge Bombshell About FBI if Hillary Not Indicted (Video)
Secret Audio Of Hillary Clinton's Real Plans For Guns Leaks Out (Videos)
Most Unbelievably Scandalous Video Hillary Wishes Never Saw Daylight (Video)
Another Clinton Associate Found Dead, Bill and Hillary's Body Count Increases!
RELATED HILLARY POSTS:
Leak: Hillary Not Indicted Because Everyone in D.C. Tied to Clinton Foundation (Videos)
New World Order's Summer of Chaos Advances Thanks to Hillary Outcome (Videos)
Hillary's Chief of Staff Fails to Recall Events 189 Times Throughout Deposition
Clinton Cooked: Report on Email Scandal Worse Than Initially Expected (Video)
Judge Says Enough Evidence to Indict and Convict Hillary Clinton (Video)
Obama Plotting For King of the World; Means Indictment Likely For Hillary
Hillary's Criminal Investigation a Political Nuke – Party Diving For Bunkers (Video)
Everyone in Hillary's Inner-Circle Lawyers-Up; FBI Quickly Closing In on Hillary
Hillary Answers Question, Shockingly Hears Reporters Laughing In Disbelief
Former House Majority Leader: The FBI is Finally Ready to Indict Hillary NOW
U.S. State Dept. Caught Attempting to Rig Iowa and New Hampshire Elections
Clinton Email Scandal Produces Largest Smoking Gun To Date: 44 Magnum
Video: Benghazi Victim's Father Publicly Challenges Hillary To Lie Take A Detector Test
Hillary Email Blows Cover Off Massive Obama Plot to Promote Terrorism
Smoking Gun: Hillary E-mail Instructs Aide to Delete Classified Markings
Obama's Third Term: What You Need to Know About Hillary Clinton's Emails
Obama Defies Judge's Order, Protects Hillary, and Should Mean Prison
Busted! CIA Reveals Hillary and Obama Armed ISIS (Video)
Bombshell Email: Hillary Clinton Gave Benghazi Stand Down Order
Trey Gowdy Speaks Out About Withheld Clinton Benghazi Emails (Video)
Exposed: Clinton Withheld 180 Emails About Benghazi
New Evidence: Hillary Willingly Violated National Security (Video)
400 STINGER MISSILES STOLEN IN BENGHAZI: Why Were They In the Embassy??
SUBSCRIBE TO THE TOP STORIES OF THE WEEK IN THE NEWSLETTER HERE
FACEBOOK | GOOGLE+ | TWITTER | PINTEREST | STUMBLE UPON | TUMBLR
"I'M WITH THE DEPLORABLES" T-SHIRTS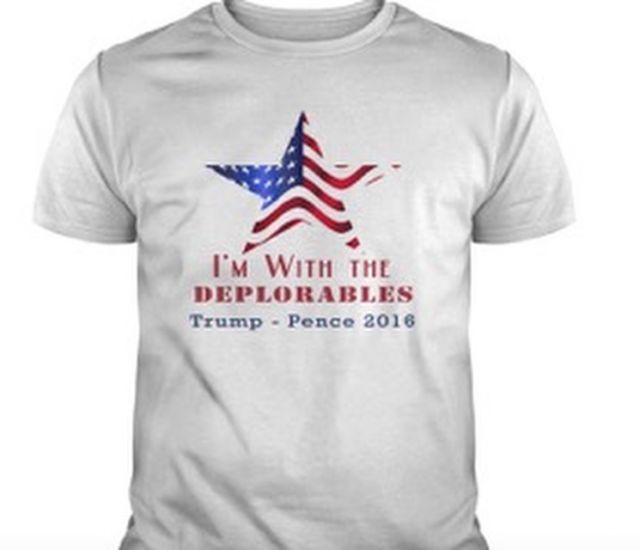 FACEBOOK | GOOGLE+ | TWITTER | PINTEREST | STUMBLE UPON | TUMBLER
SaveSave